---
Return to Index/Main Page
---
---
Ka-Bar: An American Knife Company located in Olean New York. It is credited with designing the Marine Corp Fighting Knife commonly called a Kabar regardless of manufacturer. The name comes from a corruption of Good enough to Kill-A-Bear.
Karambit: A style of fighting knife noted for a short hook like blade and the large finger hole for a pommel. The index finger is normally inserted in the finger hole, which pace the blade at the bottom of the hand, normall facing outward. The knife is normally used more slashing than stabbing.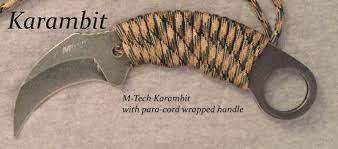 Keen Kutter: Originally a trademarked name of Simmons Hardware and later Shapleigh Hardware Company. Keen Kutter made work type knives. For a short time Frost cutlery produced a line of knives bearing the Keen Kutter trademark but the relationship was short lived. The trade mark is now privately owned and no longer in production. With the exception of the Frost knives, Keen Kutters are normally American Made.
Kentucky Congress: The Kentucky Congress is a five blade congress knife that features are large clip blade that falls in the middle of the other four blades. While it is considered a traditional pattern knife it is more likely of recent adaptation of the old traditional Congress pattern. The pattern may have been created by Jim Frost but to date I have not found the knife's true origin.

Kershaw: A company founded by Pete Kershaw, a knife designer at Gerber. Today, Kershaw is multinational company owned by the Japanese KAI Group, Kershaw is headquartered in Tualatin, Oregon, United States. There knives are made in the US, China, and Japan
Keychain Knives: Small knives that could be attached to key rings or act as a key chain. These were normally less than two inches in length. A good example is the Victorinox SD classic knife.
Kkukuri: is an inwardly curved Nepalese knife, similar to the machete, used as both a tool and as a weapon. It is a traditional tool for Nepalese people, and also a weapon of choice/side arm for all Nepalese including those serving in different armies around the world. The knife was made world reknown by the Royal Ghurka Rifles of the BritishArmy. Also spelled Kukri, Kukuri and other simialr spellings. (see machete, and Parang)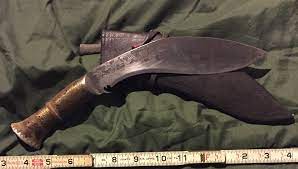 Kick: A tang projection on the cutting edge of the blade which prevents the sharp edge from striking the spring when the knife is closed, thus preventing knick or a dull edge.
Kitchen Knife Kitchen knife normally refers to any of a number of knives used for the purpose of food preparation from cultures around the world. This includes a wide variety of knives. Within the Western society you will find the chef knife as well as paring, boning, carving, boning knives. It also includes a variety of specialty knives such as cleavers and bread knives.
There are also Asian food preparation knives such as the Japanese santoku and deba. While not as popular as popular as pocket knives, there is a collectors market for kitchen knives.
Klein & Sons: American manufacturer of hand tools, including various folding work knives, known today as Klein Tools.
Knife: A tool or weapon that is used for cutting or stabbing consisting of thin blade attached to some type of handle.
Knife Roll: A piece of material, normally with small pockets or securing straps that allow knives to be stored and rolled for transportation and display.
Korium: Korium is a trademark for a series of inexpensive stainless steel knive made in Solingen, Germany primarily for the sell in the United States. The more most often sold knifes were a pocket knife with red plastic handles similar to the Swiss Army Knife, and three daggers. One dagger had a fake stag handle with a angle head pommel. The other two had cast aluminum handles; one with an eagle claw the other featuring the shape of a nude woman. While inexpensive when first made they have become more popular and thus can be costly.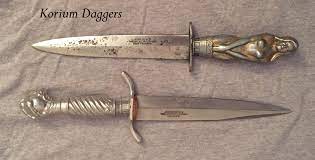 Kraton: A rubber-like thermoplastic polymer. It's used as a flexible inlay on handles to improve grip. The material is most popular among makers of tactical knives.
Krupp 4116: 4116 is a fine grained, stainless steel made by ThyssenKrupp in Germany It was developed for the medical industry but is now used in food preperation. The balance of carbon and chromium content give it a high degree of corrosion resistance and also impressive physical characteristics of strength and edge holding. Edge retention is said to be on par with 440C Stainless Steel but corrosion resistance is much better. Carbon: 0.45-0.55; Si: 1.00 Mn: 1.00; P:0.040; Cr: 14.0-15.0, Mo: 0.50-0.80, V: 0.10-0.20
Kukri: See Khukuri
Kydex: A type of thermoplastic that is heat formed and retains its shape while being very flexible. Being resistant to sweat, chemicals, oils and solvents makes it ideal for knife sheaths and is a popular choice of material for makers of tactical knives.
---
Return to Index/Main Page
---